Vibhor Sogani's Art featured at [d]arc Awards 2019
'Aroma' by Sogani becomes the only nomination by an Indian lighting brand to reach top 4 of the Art Bespoke category at DARC Awards in 2019.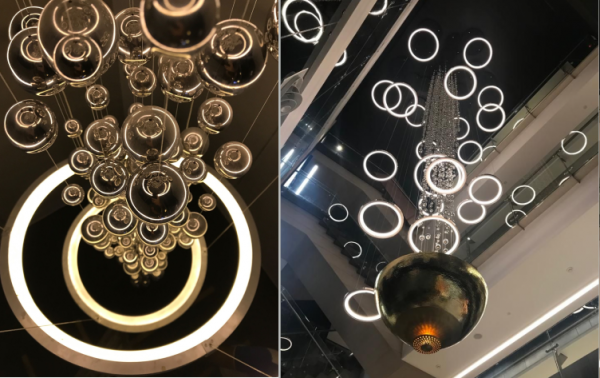 The Aroma light installation becomes the centerpiece in the reception atrium (50 feet high) of a leading spice manufacturing company. Its design traces the journey of the process of cooking, ascribing to it a tangible, sculptural sense. The 35-feet-tall chandelier is suspended from the ceiling, representing beauty in its truest form — mirror finished stainless steel balls, almost glass-like in feel, and floating 'aroma rings' of light keep enlarging as they spiral up and spread out.
Spices and herbs are depicted as vital determinants in the making of a culinary masterpiece, as they waft gracefully from 'vessel' below, pervading the air with flavor and fulfilment.
The light installation essentially, is redolent of everything that creates a tempting gastronomic experience, celebrating the role of spice-making as a work of art, while paying homage to those who are deeply involved in this undertaking. Designer Vibhor Sogani recognizes and honors the simple, yet painstaking nature of the culinary arts, prompting the 'food artist' to take a bow!
About [d]arc Awards
The [d]arc awards are a unique concept that utilizes Arc and Darc magazines' reputation in lighting design publications. Lighting designers, architects, interior designers or manufacturers cam enter the awards before a shortlist is released by an international jury of independent architectural lighting designers. However, all participants are invited to vote on their favorite projects making the award a truly peer-to-peer commendation in architecture and lighting design.
About the Artist
Vibhor Sogani is an Indian metal artist who specialized in Industrial Design from the prestigious National Institute of Design, Ahmedabad.
Vibhor follows an experimental and language transformative style for exploring diverse materials like steel, brass, copper, bronze, stone and mixed media. His strong interest in fine art has led to some very innovative artistic expressions like the Sprouts and Joy installations in Delhi and Dubai respectively. Vibhor's language is modern and has a cosmopolitan flavor which is a natural corollary to the material he is primarily uses – steel.
Over the years Vibhor's work has been exhibited in various design and art shows in India and overseas like Australia, Zimbabwe, Tanzania, South Africa, Singapore, Germany etc. Vibhor was also awarded the 'Indian Art Icon of the Year 2014′ in Singapore. In 2017, he was nominated by the Government as a member of governing body of the India's Design Council.
Media Contact
Company Name: [D]arc Awards
Contact Person: Paul James
Email: Send Email
Phone: +44 161 4768351
City: Dalston, London
Country: United Kingdom
Website: https://darcawards.com/