Adventures Beyond the Body Explored in a Book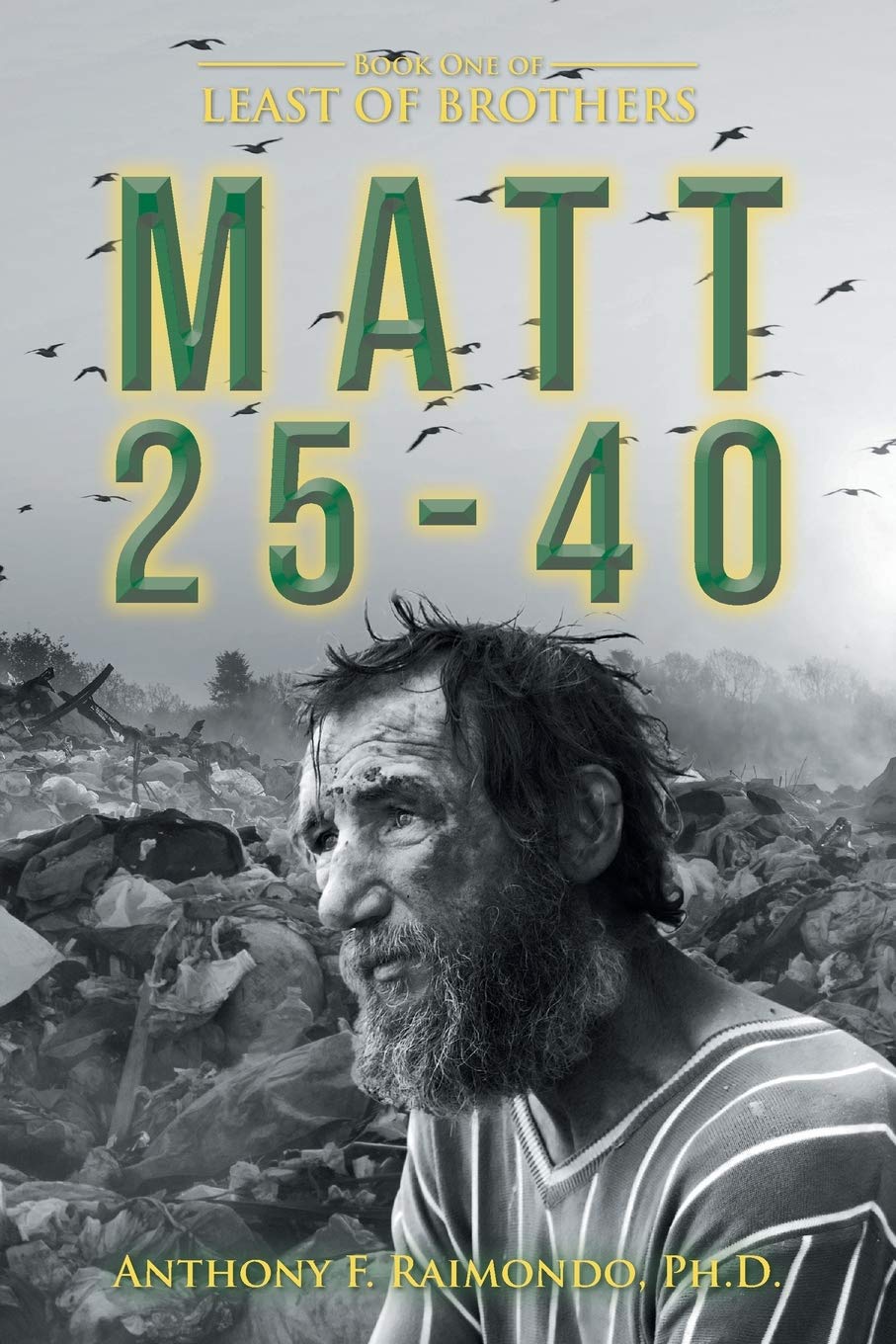 Matt 25-40 is a breathtaking journey of a homeless man knocked unconscious and trapped behind a pile of garbage. A vivid sensation of moving outside his physical body becomes the key to unlocking the threads of his life and revealing his life's deepest secrets.
Dr. Anthony F. Raimondo will have his readers be completely blown away or just simply find an explanation to the character who sees his body from a vantage point outside his physical self.
Matt 25-40, written by Dr. Anthony F. Raimondo, takes you to a riveting story of soul-searching and journey, as well as an overly active imagination tale. This 170-page book gives a thrilling and almost real-life account of a man who wants to seek answers for his real purpose.
Amazon.com brings Matt 25-40 to the reader's consciousness and is up for purchase and available in three formats. Get to experience the thrill and connections for only $3.99 (Kindle), $9.50 (Paperback), and $16.99 (Hardcover).
Amazon Link: https://amzn.to/2v6v76b
Like and follow his Facebook Page: https://www.facebook.com/Matt-25-40-by-Anthony-Doc-Raimondo-181378845331555/
Website: www.anthonyfraimondo.com
About the Author:
Dr. Anthony "Doc" Raimondo is a unique storyteller who can bridge the gap between himself and his audience in both auditory and in the written word. Books and movies are lovely venues for a writer, but they are a solo experience for both the author and the audience. "Doc" believes only actual shared experience comes from oral storytelling; where the teller and the audience share the experience. "Doc" has brought his verbal storytelling skills to the printed word in the Least of Brothers Series based on two verses from the Bible Matthew 25:40.
"Doc" has IMDb credits associate producer of Silver Twins and producer credit for The Johnson Show. Produced an Internet Radio program; Doc Speaks Show on Intention Radio, and over 160 YouTube videos. Also, he has produced several Off Broadway Theatre Productions written by Antony Raymond, Julio, Pretty Babies, Lustiness, Gin & Milk, Apt. 301, and Yeah, I Met This Girl; presented a dance performance of The Savior Project and the Gitrite Comedy Show at a cafe theatre in Newark, NJ.
Media Contact
Company Name: URLink Marketing | URLink Print and Media
Contact Person: Media Relations
Email: Send Email
Phone: 1-888-980-6523
Address:1603 Capitol Ave., Suite 310
City: Cheyenne
State: Wyoming 82001
Country: United States
Website: www.urlinkpublishing.com/