Gifted Pianist, Vladimir Tiagunov, has announced the release of his album, 'Classical Piano: The Essential Masterpieces'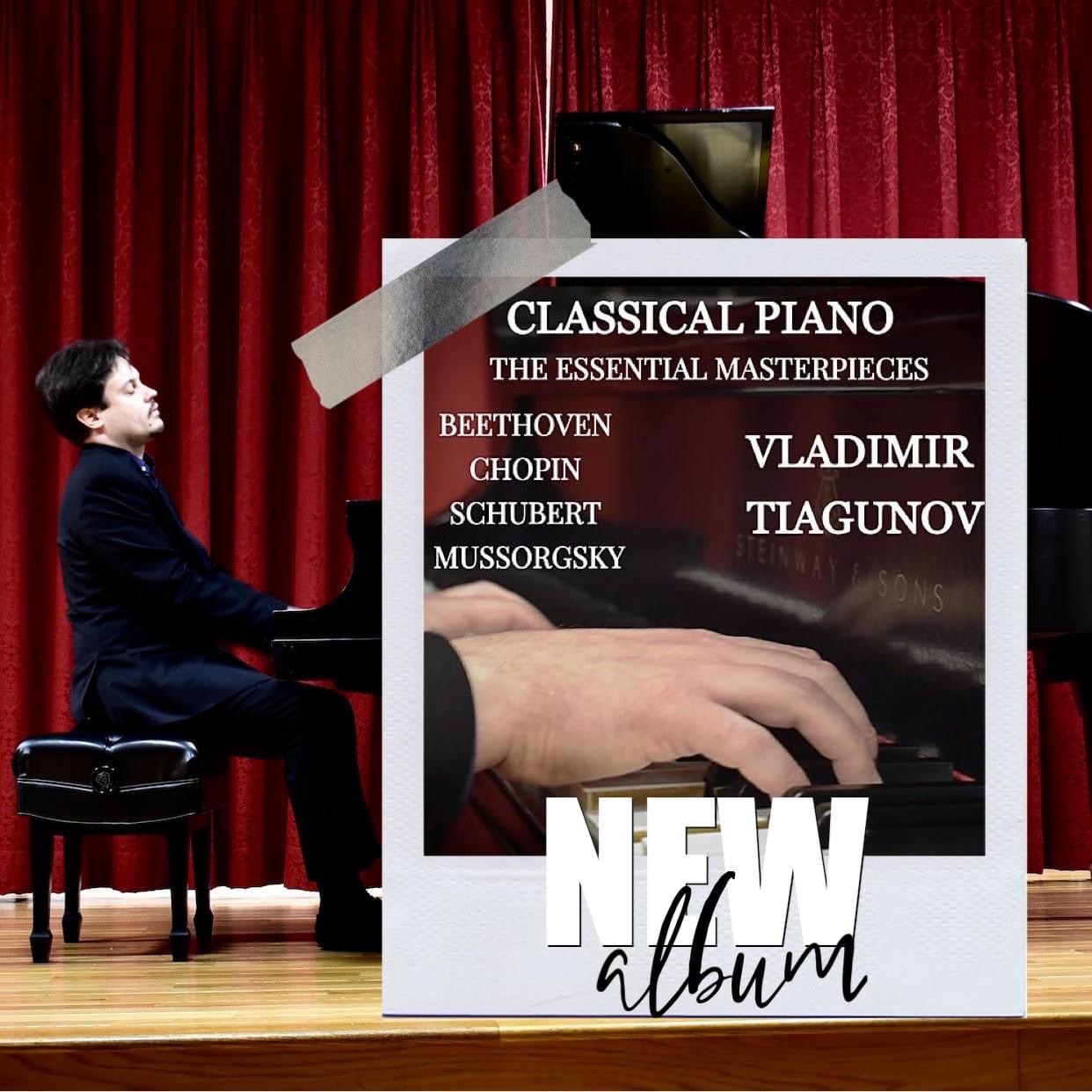 World-renowned pianist, Vladimir Tiagunov, has announced the release of his album, 'Classical Piano: The Essential Masterpieces' which is currently available on all major digital music streaming services (Spotify, Apple Music, Itunes, Pandora, YouTube Music. it's an album that would appeal to all classical music lovers.
Born in 1989 in Temirtau – a city in the Karaganda region of the Soviet Union (now a city of Kazakhstan), Vladimir, it would seem, had an innate knack for music. He started playing piano when he was six and gave his first solo recital aged 9.
Reminiscing on the challenges he faced during his early days as a pianist, Vladimir said: "When I was a preteenager, I realized that talent, even if it's natural, is not going to make one successful in any field if one doesn't study. And skills can only be developed by hours and hours of work every single day. This understanding, which was completed by having fantastic music teachers, and my tenacity, helped me to pursue my career in music."

Video Link: https://www.youtube.com/embed/BCxOx1Ax2j0
The extra work that Vladimir put paid off, and by the age of twenty, he became a winner of a dozen international music competitions. Today, he has a vast assortment of awards.
The 31-year-old sensation who grew up and had his college education in Nizhny Tagil, conservatory and postgraduate studies in Chelyabinsk, Russia, moved to New York City for his postgraduate studies in 2014. During his studies, he had different role models in music – both composers and performers. His favorite composers, depending on whose music he's playing, are Bach, Beethoven, Chopin, Rachmaninoff, and many others. His favorite performers would change over time as well—at one point, it was Horowitz, then Gilels, Richter, Rubinstein, etc.
Vladimir Tiagunov, who teaches piano and plays in his church on Sundays, revealed that his proudest moment was when he played at Carnegie Hall for the first time in 2016. He played "Appassionata" by Beethoven. It's a moment he'd cherish for a long time. He also hopes to one day organize an International Music Competition that would be held in New York.
When he's not running mind-blowing scales, or playing the devil's interval on the piano, Vladimir, in his free time, plays chess and ping pong. He also loves reading and traveling.
Vladimir Tiagunov has a piece of advice for those looking up to him: "My advice to my students and young people is to follow your dreams. Time is all we have, and things won't just "work out." Whatever you do – do the very best you can do."
It's an advice Vladimir Tiagunov has epitomized; one that is propelling him to the pinnacle of music as a pianist.
Media Contact
Company Name: Classical Piano
Contact Person: Vladimir Tiagunov
Email: Send Email
Phone: +1 917 826 3355
Country: United States
Website: www.vladimirtiagunov.com