Plastic Surgeon Implements Virtual Hand Surgery Telehealth Examination during COVID-19 Pandemic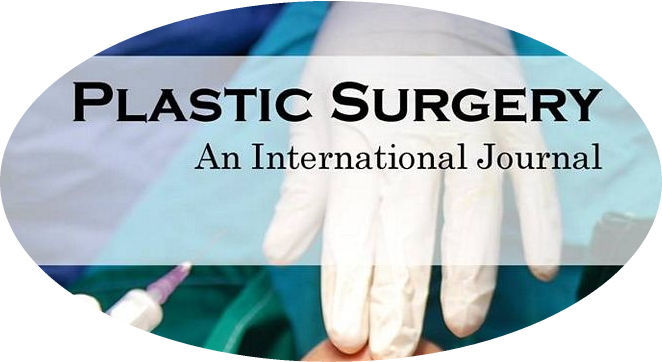 Telehealth can provide a safe means of delivering clinical care when the dangers of interpersonal contact outweigh the benefits of regular patient visits, as we are currently experiencing during the coronavirus (COVID-19) pandemic. Telehealth has significantly increased surgeons' ability to maintain continuity of care for patients at a time when physical distancing, social isolation, and quarantine have become common. This became particularly helpful to surgeons when state governors announced the delay of elective surgeries, non-essential medical, surgical, and dental procedures.
A recent study published in Plastic Surgery describes one plastic surgery practice that converted from in-person to virtual appointments. The study's lead author is Dr. Subhas Gupta, Professor, and Chair of the Department of Plastic Surgery at Loma Linda University in Southern California.
Dr. Gupta reports that as they began to implement telehealth in their practice, they learned that certain aspects of the physical examination were harder to perform virtually. The study describes that a considerable amount of time was spent in the initial consultations educating and demonstrating maneuvers to patients over the video link. It became clear to the study authors that pre-visit education could both improve the process and increase the efficiency and effectiveness of the virtual visits. Gupta and his colleague Dr. Chris Bobbitt identified the motor and sensory exams needed to perform a proper hand evaluation and then created a teaching tool for patients to receive before their consultation.
According to their study, Gupta and Bobbitt developed an informational packet that is sent to patients prior to their video telehealth visit. This packet contains a letter of explanation, a new patient questionnaire, and a photographic virtual hand examination guide. The letter explains the virtual guide's purpose and provides instructions for the patients to ensure a productive visit – to remove jewelry and watches, find a space with optimal lighting, wear a short-sleeve shirt, etc. In the virtual hand examination guide, they explain common physical examination maneuvers. Each common physical examination maneuver has a short "how-to" explanation in lay terms, with corresponding photographs to maximize patient comprehension. Patients are urged to look over the guide before their video visit and to have it available during the visit.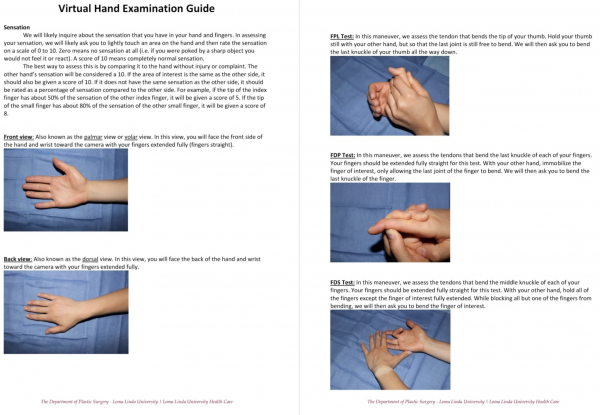 They began implementation of this tool in their hand surgery practice for new and return patients in March 2020. Surgeon satisfaction with this tool was reported as very high after a three-month pilot. The authors report that they have found the virtual hand examination has become more thorough and efficient after implementation. Patients have also been highly satisfied with this tool. All patients surveyed stated that they would recommend this guide to other patients who are set to undergo a video telehealth visit. Patients felt that it increased their understanding of the virtual physical examination process and decreased frustration. Gupta concludes that the tool equips the hand surgeon well, allowing him or her to conduct an effective and efficient virtual patient evaluation.
Not only has the virtual hand exam allowed the authors to maintain contact with existing patients and begin the diagnostic process of new patients, but it has also been useful in determining urgent treatment needs. Gupta and Bobbitt plan to develop and validate other virtual physical examination tools.
For more information, use the media contact outlets below.
Media Contact
Company Name: I-Med, LLC
Contact Person: Marc Verdo
Email: Send Email
Address:4210 Blaine St
City: Beverly Hills
State: CA 90210
Country: United States
Website: https://lluh.org/provider/gupta-subhas