Indiana Author George Kramer Releases 19th book, "Vampires of the Eight" Inspired by Pathology Lab Work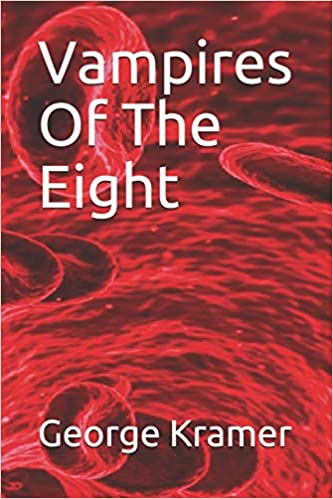 In Karmer's new novel, Vampires of the Eight, a new vampire world has been created, which centers around the eight different blood groups, each led by a vampire that controls the group and is available on Amazon in eBook and paperback.
George Kramer's Vampire novel has genuine blood work and is available on Amazon in paperback and eBook.
Indiana, USA – November 17, 2020 – When ex-tissue procurement specialist George Kramer got some down-time, he turned to author medical horror books. Now working in a large surgery department in Indiana, George has turned to a subject that's literally close to heart and hands… and blood. More specifically, 'Vampires' and a new spin on the genre. In Karmer's new novel, Vampires of the Eight, a new vampire world has been created, which centers around the eight different blood groups, each led by a vampire that controls the group.
Originally born in Brooklyn and raised on Long Island as a natural-born triplet with eight other siblings, George moved to Indiana in 1989 and began working in a large hospital in Indianapolis. The darker aspects of his work fuelled his love of reading, and writing became an outlet. Now, happily married and father to a young daughter, George has written nineteen books, including poetry and other genres.
Kramer says, "Getting volunteers to be included in my books has proven easy, especially doctors and nurses. All I say to them is sure, I'll have you in my book, but I'm going to have to kill off your character. It's amazing; people love the idea of a gruesome fictional death."
Additionally, Karmer told Dr. Melissa Caudle, bestselling author, and media influencer, "The idea for Vampires of the Eight came while at work collecting blood for patients. I realized many people don't know their own blood group, but what would happen if, like with humans, a vampire got the wrong blood group? The results would be catastrophic. From there, I began to think that the vampire world could be divided into the eight blood groups and could only feed on their own group or a blood type that was cross-compatible such as AB+."
About the book
Two thousand years ago, a stranger infected eight pregnant women that caused eight different blood types of vampires to be born. As a result, not all vampires can drink blood from any human. O negative vampires can only take blood from O negative humans, while AB positives can drink blood from any human. And every hundred years, the stranger returns and infects eight more expectant women. However, this May comes and goes, but the stranger doesn't show up, and only one vampire leader is worried. When Doctor Shelly Leadstone, an eminent enzymologist, creates an enzyme that strips the protein from red blood cells, thereby creating a universal blood type for all the eight blood types, not all vampires are happy. The enzymes are stolen, which creates rifts in the blood groups. As each faction of vampires tries to deal with each other, two leaders emerge in a cat and mouse game where the ending could spell doom for the entire eight vampire blood types.
All eight vampire blood types have impenetrable skin, so holy water, crosses, wooden stakes, etc., will not affect them. The only way they can be injured or die is from another vampire regardless of the vampire's blood type.
Not everyone knows their blood type. But, if you were a vampire, it would mean the difference between life and death.
About George Kramer
George Kramer started writing early in his life. In fifth grade, he started dabbling with his pen and paper. It was instrumental since his writing would serve as a crucial outlet later in life. The venting allowed him to handle his trials and tribulations in growing up with eight other siblings. George spread his wings and embraced writing in all genres. As it stands, he has over one hundred and fifty articles published online for various websites. He has written two books of unconventional poetry, countless short stories, and seven books of the popular Arcadis series. Additionally, George has written a medical horror book called Blind to Blood and its sequel, Blind to Blood 2: The End Game. He has written a screenplay for both Blind to Blood Arcadis: Prophecy, and to some, it's just a rose. He wrote a murder/mystery/love obsession book called, 'To some, it's Just a Rose.' He is currently writing book three in the Blind to Blood Series.
For more information or an interview with Kramer, contact the author directly at 317-985-1500 or email him at [email protected]
Follow the author on social media:
Website: https://www.amazon.com/George-Kramer
I: gkramer86
T: @gkramer86
Media Contact
Company Name: AAPH Press Distribution, LLC
Contact Person: Dr. Melissa Caudle
Email: Send Email
Phone: 5043018001
Address:35 Platt Street
City: New Orleans
State: LA
Country: United States
Website: www.absoluteauthor.com