Global Sugar Market & Volume by Consumption, Production, Export, Import, Company Analysis & Forecast
Global Sugar Market will be US$ 53 Billion by 2027. By Consumption, Production, Imports, Exports, Company Analysis & Forecast.
Sugarcane is a cash crop mostly grown in tropical countries and has a notable quality of serving as both Food and fuel sectors. Sugar is a sweet crystalline substance obtained from sugar cane as well from sugar beet. Around the globe, it used in various food and non-food applications. In contrast, as per International Institute for Sustainable Development, the cultivation and processing of Sugar cane currently provide livelihoods for 100 million people globally. And at the country, Brazil's sugarcane industry employs over 1 million people of workforce approx 25% from rural areas. As per Renub Research Analysis Global Sugar Market will be US$ 53 Billion by 2027.
Sugar plays an important role and functions into the food industry; for instance, it offers a sweet taste and is used as preservatives and prevention from microorganism development. Besides, it is also used for retaining moisture and preventing staleness in baked goods.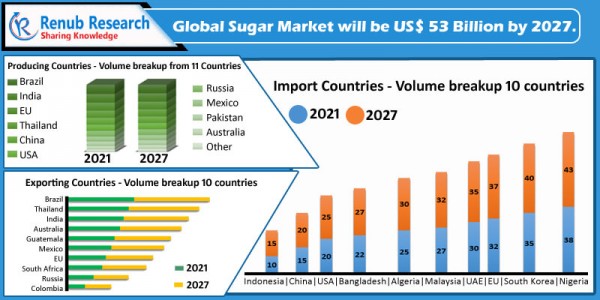 Moreover, the driving forces towards this market growth are sugar consumption in food and pharmaceutical industry. Its uses in the food and beverages sector are gaining traction during the forecast period. Besides, its usages in the preparation of antibiotics and cough syrups in the pharmaceuticals sectors are expected to greatly impact this market.
It is being seen that the intake of sugar supply growth has outpaced demand for human consumption during 2016 and 2017. It is estimated that it will grow during the forecast period as the expansion of the planted area in Asian pacific regions like China and Indonesia and improved farm productivity.
However, this industry is also facing some challenges such as demand is expected to stagnate in developed nations due to dietary changes, health consciousness related to sugar consumption such as obesity and diabetes as well as government intervention to reduce sugar intake.
Renub Research new report titled "Global Sugar Market & Volume by Consumption (India, European Union, China, United States, Brazil, Indonesia, Russia, Pakistan, Mexico, Egypt, Other) Production (Brazil, India, European-Union, Thailand, China, United States, Russia, Mexico, Pakistan, Australia, Other) Export (Brazil, Thailand, India, Australia, Guatemala, Mexico, European Union, South Africa, Russia, Colombia) Import (Indonesia, China, United States, Bangladesh, Algeria, Malaysia, United Arab Emirates, European Union, South Korea, Nigeria) Company Analysis (Associated British Foods plc, Nordzucker AG , Wilmar International Limited, Tereos , Lantic Inc)" provides current market trends, key growth factors and restraints, key player's insights of Global Sugar Industry.
Request a Free Sample Copy of the Report: https://www.renub.com/request-sample-page.php?gturl=global-sugar-market-p.php
Consuming Countries – Market & Volume breakup from 11 Countries
1. India
2. European Union
3. China
4. United States
5. Brazil
6. Indonesia
7. Russia
8. Pakistan
9. Mexico
10. Egypt
11. Other
Producing Countries – Volume breakup from 11 Countries
1. Brazil
2. India
3. European-Union
4. Thailand
5. China
6. United States
7. Russia
8. Mexico
9. Pakistan
10. Australia
11. Other
Exporting Countries – Volume breakup from 10 Countries
1. Brazil
2. Thailand
3. India
4. Australia
5. Guatemala
6. Mexico
7. European Union
8. South Africa
9. Russia
10. Colombia
Importing Countries – Volume breakup from 10 Countries
1. Indonesia
2. China
3. United States
4. Bangladesh
5. Algeria
6. Malaysia
7. United Arab Emirates
8. European Union
9. South Korea
10. Nigeria
All Key Players has been covered with 3 view points
• Overviews
• Recent Developments
• Revenues
Company Analysis
1. Associated British Foods plc
2. Nordzucker AG
3. Wilmar International Limited
4. Tereos
5. Lantic Inc
Industry Related Opportunity:
Global Potato Starch Market: https://www.renub.com/potato-starch-market-p.php
Global Corn Market: https://www.renub.com/global-corn-market-p.php
United States Meal Kit Market: https://www.renub.com/united-states-meal-kit-market-p.php
About the Company:
Renub Research is a Market Research and Consulting Company. We have more than 10 years of experience especially in international Business-to-Business Researches, Surveys and Consulting. We provide a wide range of business research solutions that helps companies in making better business decisions. We partner with clients in all sectors and regions to identify their highest-value opportunities, address their most critical challenges, and transform their businesses. Our wide clientele comprises of major players in Healthcare, Travel and Tourism, Food & Beverages, Power & Energy, Information Technology, Telecom & Internet, Chemical, Logistics & Automotive, Consumer Goods & Retail, Building and Construction, & Agriculture. Our clients rely on our market analysis and data to make informed knowledgeable decisions. We are regarded as one of the best providers of knowledge. Our pertinent analysis helps consultants, bankers and executives to make informed and correct decisions.
Contact Us:
Renub Research
Phone No: +1 678-302-0700 (USA) | +91-120-421-9822 (IND)
Email: [email protected]
Web: https://www.renub.com
Follow on Linkedin: https://www.linkedin.com/company/renub-research
Media Contact
Company Name: Renub Research
Contact Person: Rajat Gupta
Email: Send Email
Phone: 16783020700
City: Roswell
State: GA
Country: United States
Website: www.renub.com/agriculture-24-c.php