Company Invents A Sink Faucet That Kills Germs in Five Seconds

Fresh and Clean Ozone is pleased to announce the launch of the Germ O3 Away, a sink faucet that has been specially designed to mix ozone gas and running water, producing ozone-rich water that kills germs and viruses in seconds.
The new innovation is expected to be extremely popular in disinfecting and sanitizing hands, PPE and surfaces. Health care facilities, businesses and homeowners are encouraged to install the Germ O3 Away faucet to further protect their homes and properties from germs and other deadly viruses. The patent-pending faucet functions by mixing ozone gas into running water, which produces a powerful sanitising liquid.
The Germ O3 Away faucet is largely dependent on ozone gas to function. The gas is preferred because it destroys germs and viruses at the cellular level. Ozone-rich water has been found by experts to be fifty times more powerful than bleach as a sanitizer. It is natural, has no harmful chemicals and does not leave any residue on surfaces.
Germ O3 Away is a sizeable product that consists of a faucet attached to an ozone generating unit to produce ozone water from regular tap water with no extra products and packaging. This combination has now effectively given birth to what might be the most powerful sanitizer currently available. The Germ O3 Away faucet is ideal for homes, healthcare institutions, offices, and public places where people need an immediate source of powerful sanitation.
The Germ O3 Away faucet fits in most sink openings and the ozone generating unit fits under the sink. Also available is a stand-alone stainless-steel sink option that expands the possible usage areas for the faucet.
Fresh and Clean Ozone is owned by Jon Hiatt, a disabled United States veteran, who in true American spirit, dug deep to establish the company in February 2018 together with Rik Maple. Initially starting in a garage in Tulsa, OK, the company has grown since then. Fresh and Clean Ozone is backed by years of research and development focusing on environmentally friendly ozone solutions for use at home, business and industrial use. Speaking about the breakthrough product Germ O3 Away, company owner Jon Hiatt says, "Having worked so hard on this new mixing technology, I am excited to see how it stabilizes ozone in water for so many minutes. This is like no other technology I have seen before."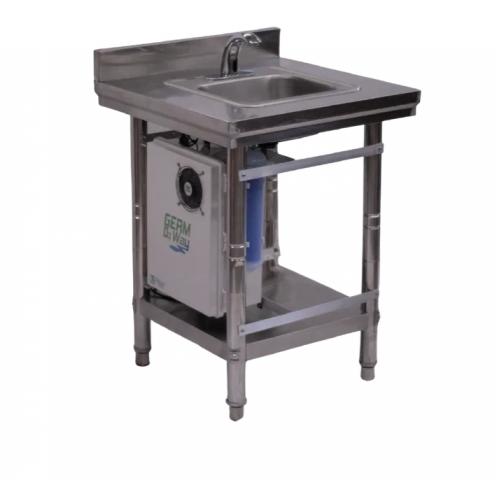 Co-owner Rik Maple, said, "After having used alcohol-based hand sanitizers for years and working with dry hands from it, I love that my hands don't dry out no matter how many times I use the ozone sink."
For more information visit the company's official website https://fcozone.com/, or use the media contact outlets below.
Jon Hiatt: 469-623-3129
Rik Maple: 918-344-2875
Media Contact
Company Name: Fresh and Clean Ozone
Contact Person: Jon Hiatt
Email: Send Email
Address:6117 E. 21st St, suite D
City: Tulsa
State: OK 74114
Country: United States
Website: https://fcozone.com/