Actor Raymond Bagatsing teams up with Maya The Shaman to support Indigenous During Covid Lockdown in the Philippines
International Actor Raymond Bagatsing teams up with Maya The Shaman During Philippines Covid Lockdown to assist in supporting Indigenous rebuild after natural disaster.
The struggle is far from over for those left behind in the Philippine Ulysses cyclone! This disaster has destroyed thousands of homes, killing many. It has been difficult to get any help for the thousands of outlying islands and villages on the mainland. This will take time to rebuild destroyed indigenous homes.
People are taking matters into their own hands since they have been left virtually stranded. Small, independent, and self-funded organizations such as Ang Kasama have stepped forward to assist during these difficult times. International actor Raymond Bagatsing and author/healer Maya the Shaman teamed up with Deo Palma to support Indigenous communities.
Raymond Bagatsing is a movie star in the Philippines. He gained popularity and recognition as the leading actor in an international film called "Quezon's Game", stamping Raymond as the most upcoming actor in Asia. (Quezon Game can now be seen at Netflix and Amazon) Raymond, who is primarily residing in the Philippines, has seen first hand the difficulty of local people during Covid lockdowns and this natural disaster. When he came to know that Maya The Shaman is doing fundraising for this cause, he joined forces with her in support of the indigenous. "Service is showing up and helping heal our people from hopelessness. If I am not on set working, I am on the ground crew, distributing supplies for my people. It's important to let those left behind know that someone cares." says Bagatsing.
Raymond has been very active in his volunteer work, from mass feedings, book distribution to the children, and sponsoring of schooling programs during these Covid crises.
Raymond has devoted his life to the Arts. His spiritual practices and humanitarian service are priorities near to his heart. Bagatsing, who meditates twice a day without a fail, is also a certified yoga teacher. His love for the arts extends far beyond the film. His real passion lies in holistic wellness and sharing his knowledge in holistic living with others. An avid learner, Raymond is studying to become a Director so that meaningful and uplifting stories can be shared through his unique Director's lenses. He has offered his volunteer services for the past decade alongside a dynamic Filipino humanitarian Deo Palma and now with Maya the Shaman.
Maya The Shaman is a best-selling Co-Author of Awakening Starseeds, Coach, and an Indigenous Lemurian Code Healer.
Maya The Shaman has devoted herself to this project after visiting Maharlika Paradise last year in the Philippines. She saw firsthand during the strict lockdown how much the people were already struggling financially. Without the ability to work and little to no funding, many were starving. Depression, hunger, and suicides were becoming normal. Now faced with the added typhoon destruction, many are left without tangible assistance. Help is needed more than ever. As many have not received any aid and are stuck, funding has not come directly to the people who need it the most.
Floods all the way to rooftops, basic structures, and walls of homes were destroyed. Deforestation causes floods.
Authentic social service is truly rare. Help ReBuild Indigenous Project brings service directly to the people. Maya The Shaman says: "Being that I know Deo Palma of Ang Kasama personally, and my daughter has volunteered for them for feeding programs and kids book projects, I felt a personal understanding of their commitment and integrity. It is my job and ours to do something about this. It's just good to be well informed." Says Maya The Shaman
Deo Palma, a guardian for the Maharlika Paradise Indigenous Village, has shared these pictures of structures that have been hit hard with the typhoon that took out the roofs and walls of houses, schools, and village centers. A request for immediate donations to help out can be sent directly to Deo Palma via Paypal ℅ Raymond Bagatsing. Every single cent donated goes directly to replace ruined structures and water supply for the community.
With every cent donated to this cause, and no middle man. The indigenous community is ready to pull back up their sleeves to enthusiastically get to work, repair, attach the walls, roofs, etc. to the dwellings. Direct help will be received by a united community to help themselves and their neighbors do the groundwork. Your assistance makes a huge and direct difference in peoples' lives with your kind support. "United, we can never be broken!" Says Deo Palma.
The goal is to help raise funds to get back structures and roofs over people's heads. Get them out from the cold, rain, or extreme heat. Their necessities of life can be in part provided by our caring human nature. It is good karma to serve. A spiritual master Shrii Shrii Anandamurtiji says that "Serving humanity is serving God!" I truly believe this. My daughter and I have personally donated, and I ask that any amount you donate to rebuilding these villagers' homes and schools be given with a generous, caring heart, says Maya The Shaman.
Concerns, worries and not knowing how to go about the after effect, the leader of the Village requested humanitarian assistance.
Deo Palma supporting the local youth through education programs, revive almost lost culture, mass feedings after floods, etc.
Deo Palma is an Indigenous Village Organizer of Maharlika Paradise. A hardworking social service leader, organizer, and sincere person (whom Maya The Shaman and Raymond Bagatsing personally know) is truly a great humanitarian. Decades ago, this yogi monk of Ananda Marga is a social service conduit who has served people in other 3rd world countries in need. Nearly dying from severe malaria while in Africa, Deo returned to the Philippines. As he recovered, he continued his humanitarian work and created Maharlika Paradise. He inspires artists and writers to revive their almost lost culture. Deo teaches meditation and yoga practices while providing mass feedings, free schooling for kids, organizing medical support, and helping in any way he can during these disasters via donations from local people. His urgent goal now is to help rebuild what is basic to people's needs.
Warm meals being served to the local community since many homes and structures have been destroyed.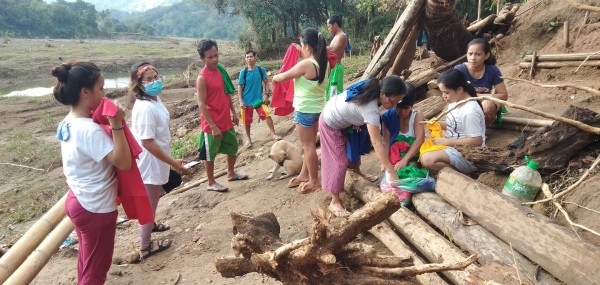 For the next two months, February-March, Maya The Shaman is donating her time, energy, and personal income to this cause. Anyone who sees this letter of appeal and informs Maya they want to get healing and donate it to this cause, will not only get a personal healing session from her but all money will go to this project. A win-win situation!
"I believe in giving back to the Indigenous so much that I am willing to volunteer my time, energy, and financial resources, by giving a 100% donation to this cause. And my hope is that this inspires others to do their share," says Maya The Shaman.
When you directly fund the Help Rebuild Indigenous Project, you will receive a future progress report. Plain and simple, whether you contribute directly to Deo Palma through Raymond Bagatsing or go through Maya The Shaman, this is a sincere and honorable project you can be proud of. A ground work effort and spiritual work that is truly dedicated to helping meet human needs. Join Raymond Bagatsing, Maya The Shaman, and Deo Palma to work together for a better indigenous living condition in Maharlika, called the Philippines.
To support "Help Rebuild Indigenous Project" or get involved, please send an email to [email protected] stating your donation amount. You will be included in our mailing list to keep you updated with this project. Your donations and help will make a huge difference.
To Donate, Contact:
Maya The Shaman
www.MayaTheShaman.com
email: [email protected]
Paypal: Paypal.me/Lemuriancodehealing
(Paypal Mention: "Help Rebuild Indigenous Project" donation and healing request)
For direct donation to Deo Palma in the Philippines:
Paypal, Raymond Bagatsing at: [email protected]
Media Contact
Company Name: Golden Light PR
Contact Person: Sarwaswati
Email: Send Email
Phone: 865-322-9606
Country: United States
Website: www.radhaapublishinghouse.com