WhatSales App Introduces Features and Tools for Online Sellers to Easily Monitor Profitability

Spend less time calculating margins giving you more time to sell better
London – Selling online can be challenging for most people, because of the huge responsibility of managing several applications. Sellers spend so much time calculating and monitoring, instead of creating strategies to improve sales.
WhatSales mobile app offers a powerful application to help online sellers manage their shops and monitor sales, giving them more time to sell better. It's the fastest-growing dropshipping, FBA, FBM, Wholesale Sellers App that combines data from major sites like Amazon, eBay, and Shopify into one place.
The app comes with powerful features like Instant True Profitability, ROI monitoring, expense management, low inventory alert, tax management, custom notifications, advert source monitoring, product inventory forecast, etc. Topped with being certified Partners of the giants, WhatSales is a Certified Technology Partner to Amazon, eBay, Shopify – and more to come.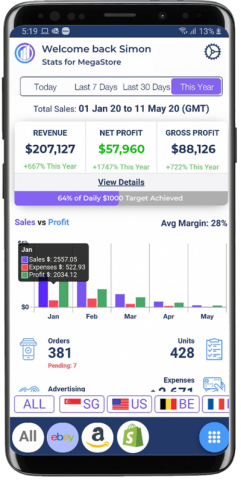 Anyone selling online needs this application to boost their online marketing and sales performance. It's a whole new experience for the eCommerce business, backed by innovative technology.
To download the app, please visit here.
The Founder and CEO of WhatSales Rashad Hussain is a veteran digital financial marketing expert and 7 figure online/offline seller who faced his own challenges with lots of book keepers and Excel sheets and wanted to find a better way.
Speaking on the inspiration for creating the app, he said "Millions of sellers, Billions in revenue and no one knows how much they truly made until they churn out sheets and formulas; that's what I wanted to change. If it was unacceptable to me then it would be for the millions of sellers worldwide. Data analytics should be available at your fingertips. I want to know how much I sold, spent, ad costs, warehousing, stock sold and stock left which will help me make better decisions, and through that – help me achieve more, and that's exactly what WhatSales does."
Ecommerce sales in 2020 reached an impressive $4.3 trillion, which is the effort of millions and millions of online retailers worldwide. Big companies can afford all the sophisticated programs and software to monitor sales and know their profit. But for the majority of online retailers and sellers, the story is not so interesting.
WhatSales' mission is to provide a simple way for online sellers to monitor their business and keep an eye on sales. The app currently has Amazon, Shopify, and eBay integrated, while other integrations like WOO commerce, Magenta, Facebook ads, Google ads, will soon be available. All information is provided in-app, no download of excel sheets and reports is required. The platform is 100% secured using the latest cybersecurity protocols to safeguard information, data, and resources.
Using a simple interface, WhatSales displays profit and loss information to help sellers know if they're making a profit or not. Such data made available in real-time will help sellers make quick decisions to improve their marketing and sales strategy. Spend less time trying to figure out margins and more time promoting the eCommerce store for better profitability. WhatSales is available on Google Play Store and Apple iOS store.
For more information, please visit http://www.whatsales.io/.
Media Contact
Company Name: WorxDesk Ltd
Contact Person: Rashad Hussain
Email: Send Email
Country: United Kingdom
Website: http://www.whatsales.io/