A painter finds happiness from rescue work in Fuyang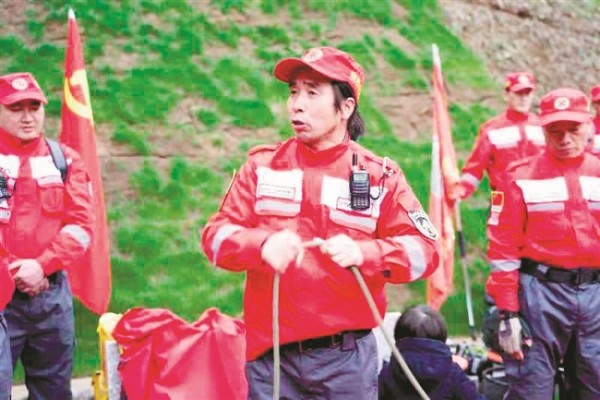 Chen Jianming gives instructions to his teammates at a rescue operation. [Photo/hangzhou.com.cn]
Chen Jianming is a painter who loves to be inspired by rivers and mountains around him, but lately he has been finding happiness from a completely different role, founder of the emergency rescue service center in Fuyang district, Hangzhou.
Thanks to his frequent visits to remote and thickly forested mountains, Chen has mastered climbing skills, as well as developed an interest in mountain climbing.
In 2010, Chen and other mountaineers in Fuyang established a team affiliated to the Fuyang Mountaineering Association. Since then, they have been helping tourists who encounter difficulties in Fuyang's mountains.
A disappearance case in 2013 inspired Chen to establish a local non-government rescue team. Not familiar with the district's dialect and folk customs, the rescue teams from other places found it hard to solve the case.
Two years later, the Hangzhou Fuyang Wolf Pack Emergency Rescue Service Center was established by Chen and other likeminded people.
Currently, the rescue service center has more than 120 members and they all share the same enthusiasm about public welfare contributions.
In addition to local rescue work, Chen and his teammates have also participated in rescue operations in other places, including landslide rescue in Lishui, fighting floods in Jinhua, as well as the search and rescue of tourists in Tonglu.
Due to being busy with rescue activities, Chen has set aside painting.
"Although painting can help me make money, I feel genuinely happy when rescuing a person and such happiness will carry on for a long time," said Chen.
Media Contact
Company Name: The Information Office of Hangzhou Municipal Government
Contact Person: Cai Jingwen
Email: Send Email
Phone: 0510-68559077
Country: China
Website: http://www.ehangzhou.gov.cn/