Solare $SOLE: an innovative Italian idea on expanding the Solana Ecosystem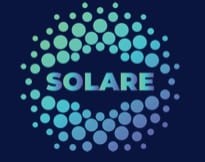 New York – Jan 4, 2022 – Solare is the first decentralized P2P cross-chain payment system that aims to accelerate the adoption of Solana and bring decentralized finance (DeFi) into everyday life.
With Solana being one of the fastest blockchains, the project's mission is to make the technology widely accessible to the masses through their core products by developing a user-friendly mobile app to facilitate peer to peer payment enabling users to send and receive funds securely with less than $0.001 in transaction fees.
The core ecosystem of the project include:
– SOLARE App: user-friendly mobile app to send and receive funds safely with maximum security, making payments crypto as flexible as possible.
– SOLARE Card: a debit card to spend and make purchases online, anywhere, anytime and withdraw cash using Solare token.
– BRIDGE: Solare will bridge with multiple blockchains such as BSC, Ethereum, Matic, etc.
– STAKING Platform: offering various staking options to attract active APR and earn passive income.
– SWAP Features: this will allow its users to move tokens between networks in a quick and cost-efficient way.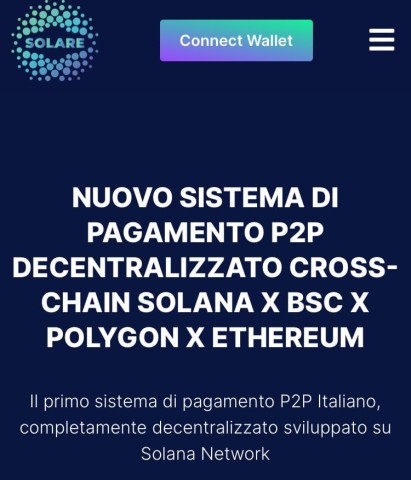 Decentralized finance (commonly called Defi) has become a game-changer for the cryptocurrency industry. However, it has come up with some unfortunate flaws. Several projects have fallen victim to the infamous rug-pull schemes.
The portion of tokens held by SOLARE developers will be blocked for the first 6 months, and in the first phase of sales, it will be possible to buy up to a maximum of tokens, precisely to avoid whales (whales capable of manipulating the market) and dumps.
The developers for the moment, to protect their privacy, have decided to remain anonymous but a conference is planned (visible on their roadmap) for all investors, and then, in addition to showing the mobile-app features in preview, they will show precisely who hides behind this brilliant idea.
It seems increasingly plausible that this is the future of finance, will it be worth being among the first investors?
Italy country is ready?
To find out more you can visit their website www.solare.digital, you will find all the information relating to the project.
Our Social media pages:
https://t.me/solare_sole
https://Instagram.com/solare.digital
Media Contact
Company Name: Solare
Contact Person: CEO
Email: Send Email
Country: United States
Website: https://www.solare.digital/