Dingtone App Activates Free Calls to Celebrate Thanksgiving
The renowned phone service provider launches free calls, texts, and a free second phone number offer to help users connect with warm Thanksgiving calls and protect personal information during the shopping season.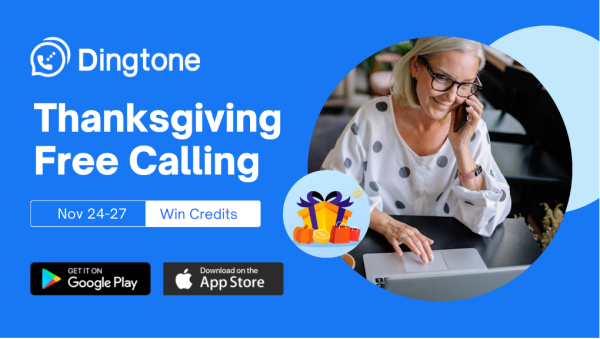 Dingtone, the leading cloud-based phone service provider, launched a campaign to offer extra credits for free calls and texts to celebrate Thanksgiving. New users in the United States will get a second phone number for privacy protection, which is an imperative measure as spam calls and fraud surge, especially during the holiday season.
Dingtone's Thanksgiving program will be operated from November 24th to November 27th. Dingtone users can utilize free phone service by participating in in-app activities such as daily check-in, playing games, completing tasks, and more.
"Thanksgiving is celebrated to say thanks and recognize the sacrifices and blessings of the past year. So calling loved ones and anyone you should be thankful for is a must. Dingtone has identified the need and has provided the perfect solution in our endeavor," said Tiger Liu, Vice President of Product at Dingtone. "We believe no one should be charged a penny for a warm Thanksgiving call. "
To receive the credit, users can download the application for free directly from the App Store or Google Play Store.
Dingtone, the Reliable and Affordable Phone Service
Dingtone facilitates cheap calling facilities for any calls, including calls to international phone numbers. From Dingtone, users can get a free phone number for Wi-Fi calling and unlimited texts to the US and CA. They can make free online calls from a real number to any mobile or landline with no sim card or cell plans.
Dingtone has been downloaded by over 100 million users all over the world. It's a recommended app for freelancers, solopreneurs, and small businesses.
Importance of Ensuring Privacy with Dingtone's Second Phone Number
It's an easy and effective way to organize your life and business on your mobile device by adding a second line, third line, or even more lines. Users are allowed to obtain a Dingtone number without even requiring an additional SIM card, so they won't have to put up with the bother of carrying two phones.
With phone scams ramping up and scammers quickly adapting tricks, everyone should be aware of the risks of the leakage of personal information. When registering on digital platforms, online shopping, or filling out an online form, users can use Dingtone phone number to combat attempts to steal their money and info for sale. Similar to a typical phone, Dingtone's second line operates as a real phone number.
In addition, Dingtone partnered with RealCall, an AI-powered spam call-blocking service, earlier this year to effectively cut down on unwanted calls and texts targeting Dingtone users.
More Holiday Season Excitements from Dingtone
The Dingtone app also helps Small and Midsize Business (SMB) owners to thrive during the holiday season by cutting budgets and improving efficiency. During this period of holiday time, Dingtone has planned to provide its users with up to two times more Dingtone credits to help users call and text unlimitedly without any cost.
Even a sole proprietorship should have a different phone number that clients or consumers can call to seek assistance if they choose to make phone calls. Small business owners or solopreneurs will position themselves for future success by selecting how to spend money and making sure it is invested wisely in the beginning.
To look up further details, please visit https://www.dingtone.me/.
About Dingtone
Dingtone is a calling and texting app allowing users to make unlimited phone calls and send free messages. The app also provides international phone numbers. Founded in 2012, Dingtone has become a renowned phone services provider that helps people stay connected and lower phone bills with its reliable services. The company currently serves more than 100 million users worldwide.
Media Contact
Company Name: Dingtone
Contact Person: Aurora Wang
Email: Send Email
Phone: +1 669-209-0123
Country: United States
Website: https://www.dingtone.me/