Zomedica Initiates Final Verification Study for TRUFORMA™; Planned 2020 Launch In Sight (NYSE American: ZOM) (ZOM.V)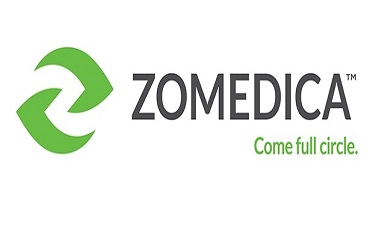 Zomedica Pharmaceuticals enters final verification studies for TRUFORMA™, the company's point-of-care biosensor platform, to evaluate the utility of the first five thyroid and adrenal assays explicitly developed for the TRUFORMA™ platform.
Zomedica Pharmaceuticals (NYSE: ZOM) (ZOM.V) announced last week that it has initiated the final verification studies for TRUFORMA™, the company's point-of-care biosensor platform. The definitive study will evaluate the utility of the first five thyroid and adrenal assays explicitly developed for the TRUFORMA™ platform. These final studies bring TRUFORMA™, the company's first planned product launch, closer to commercialization.

According to the release, the initial three thyroid assays are canine and feline total T4 (thyroxine), canine free T4, and canine and feline TSH (thyroid stimulating hormone). In addition to the thyroid assays, the verification study also is evaluating two adrenal assays: canine cortisol and canine eACTH (endogenous adrenocorticotropic hormone). Specifically, the verification study will evaluate 65 blood samples per assay, or 325 total samples. Zomedica has stated that 216 of the necessary samples are ready for evaluation with a mix representing 40% feline and 60% canine. The study is expected to be completed in December of this year, and assuming the final verification study concludes successfully, Zomedica expects to commence marketing the TRUFORMA™ platform in the first half of 2020.
Study Seeks to Prove TRUFORMA™ Performance Benefits

The in-progress verification study is focused on demonstrating that the performance of the TRUFORMA™ platform can deliver sensitivity and specificity equal to or greater than reference lab tests. Also, Zomedica believes that they can be the first to market with a point-of-care eACTH assay validated for use in dogs and feline TSH assay validated for use in cats.
Dr. Stephanie Morley, DVM, Zomedica's president noted –
"As a clinician, I believe that confidence in a diagnosis is a key to making definitive treatment recommendations, leading to better outcomes for patients, and better experiences for pet owners," She added, "Our expectation is that TRUFORMA™ will enable veterinarians the solutions to provide a rapid diagnosis for cats and dogs with complex and debilitating adrenal and thyroid disease, eliminating multi-day wait periods for reference lab results and allowing for confident clinical decisions in a single office visit."
The technology utilized within the TRUFORMA™ platform is expected to be a primary contributor to its expected success. Unlike any other known or marketed point-of-care veterinary diagnostics device, TRUFORMA™ uses Bulk Acoustic Wave (BAW) technology to provide a non-optical and fluorescence-free detection system for use at the point-of-care. The BAW technology, also used in cell phones and the world's most advanced radar and communications systems, is an extremely reliable and precise technology. In addition to its potential to provide quick results, TRUFORMA™'s use of the technology represents the first use of BAW technology in disorder and disease-state diagnostics.
TRUFORMA™ Can Revolutionize The Point-of-Care Diagnostics Market

TRUFORMA™ is expected to be the first product or device marketed by Zomedica. However, this Ann Arbor, Michigan, based company is also actively managing a series of studies geared toward bringing to market additional veterinary diagnostic and pharmaceutical products for companion animals (canine, feline and equine) by focusing on the unmet needs of clinical veterinarians. Zomedica's product portfolio is evaluating novel diagnostics and innovative therapeutics that emphasize patient health and practice health. The common theme in each of Zomedica's portfolio of products is that they are being designed to allow veterinarians to lower costs, increase productivity, and grow revenue while better serving the animals in their care.
The start of the final verification study to prove TRUFORMA™'s value brings Zomedica closer to becoming a revenue-generating company. Also, with additional products making their way through the development process, TRUFORMA™ may represent only the first of several near-term product launches that can turn Zomedica from a development-stage to a revenue-generating company.

Video Link: https://www.youtube.com/embed/43jCQISnkpI
Media Contact
Company Name: Soulstring Media Group
Contact Person: Kenny Soulstring
Email: Send Email
City: Miami Beach
State: Florida
Country: United States
Website: https://www.soulstringreport.com/