Brands In Motion disrupts the media industry with their innovative Out-Of-Home media platform
Provider of state-of-the-art marketing solutions, Brands In Motion, bridges the gap between Out-Of-Home Media and "Advertaining" brand activations with their PopUp media platform
Brands In Motion has again reiterated their goal of helping businesses and other clients to effectively reach their target audience while bridging the gaps between Out-Of-Home Media and "Advertaining" brand activations at local fairs, festivals, and events with the introduction of their new OOH media solution.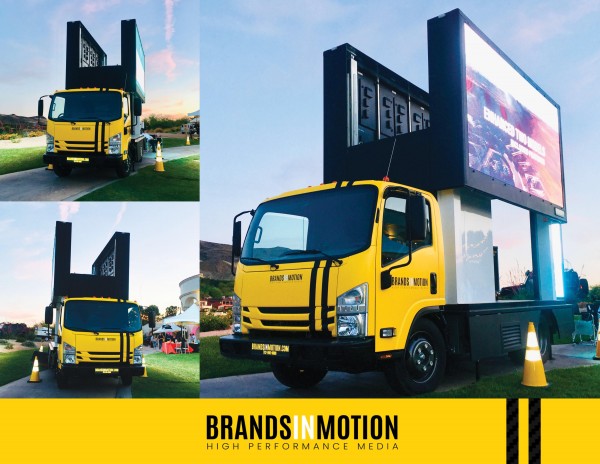 Traditional Out-Of-Home Media is typically billboards that are seen while passing on the roads and highways. However, these boards have become less captivating in recent times as they are so common that they are often unseen. This is where Brands In Motion is looking to make a difference with "advertainment" as they introduce their newly developed OOH (Out-Of-Home) media platform designed to deliver fun and entertaining visual content to consumers at practically all types of community events.
"We designed our PopUp Jumbotrons and Activation Stage in a way that allows event marketers a new platform to "Advertain" their attendees as they wait in lines and move around the festival area," said Bret Pawlowski Founder and CEO of Brands In Motion.
Putting a new spin on digital billboards, Brands In Motion has introduced a digital mobile billboard system that can be positioned at prominent locations within music, food, and beer festivals. The double-faced LED billboards are designed to be visible from a greater distance and over crowds. With high contrast LED, the jumbotrons and the content on display can be easily seen regardless of the time of the day. They can also be connected to a variety of cameras, drones, and even video game consoles, allowing people to see live-feeds of bands on stage, or even direct feeds from the Live-Stream Photo Booth.
"People love seeing their faces on our big screens and respond favorably to the creative sponsors videos and content. The Sponsored Live-Stream Photo Booths are a big hit at events because people can share their images via email, test or to social media pages for free and sponsors get added exposure for their brands," Pawlowski noted.
In addition to the PopUp Jumbotrons, Brands In Motion integrates mobile applications in the event marketing mix, allowing attendees to opt-in to receive special discounts before, during, and after the events. Attendees can also conveniently pre-order food and beverages at the events to ensure a more enjoyable experience and decreased perceived wait-times.
With the growing number of community events growing in 2020, the company aims to help event marketers and brand sponsors to connect with attendees while making events more fun, interactive, and entertaining.
About Brands In Motion
Brands In Motion is a full-service marketing agency that specializes in brand activations and experiential marketing campaigns. Using a variety of tactics and technologies, Brands In Motion bridges the gaps between Out-Of-Home, Event Marketing, Social Sharing, and Digital Mobile Billboards.
Media Contact
Company Name: Brands In Motion
Contact Person: Bret Pawlowski
Email: Send Email
Phone: 1-888-708-5558
Country: United States
Website: http://www.brandsinmotion.com/