Manage emotions and stay focused during this challenging time, with Dr. JP Pawliw-Fry's podcast "Last 8% Morning"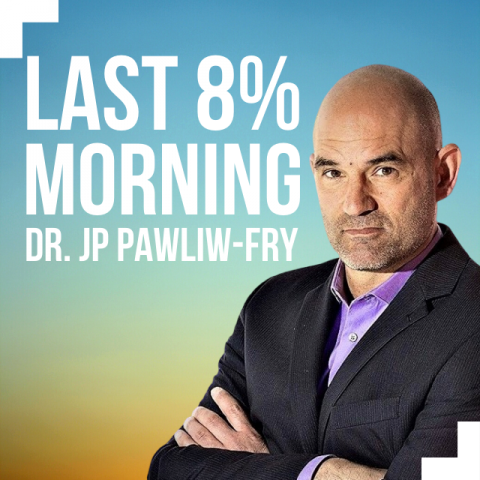 A thought leader on emotional intelligence and author of the NYT Bestselling book, "Performing Under Pressure", Dr. JP Pawliw-Fry is the co-founder of the highly-regarded research firm Institute for Health and Human Potential. Dr. JP Pawliw-Fry has worked with many renowned companies and organizations such as Sony, Xerox, Ford, Microsoft, J.P. Morgan, and many more. He has spent much of his life applying science and research to prepare people and organizations to meet their biggest challenges. He inspires people to work harder for their business and personal outcome by offering them practical tools.
Hosted by Dr. JP Pawliw-Fry, "Last 8% Morning" is a podcast that aims to help people who are facing difficult situations, conversations and decisions because of COVID-19. During this unprecedented time, staying focused is harder than ever, as is having difficult conversations with the people around us. According to Dr. JP Pawliw-Fry, the best way to deal with it is by managing how you start your day.
Just take this review from CoachExecs on Apple podcasts: "Great companion on my walks. Inspires me to get my shoes on! Authentic, caring, and intelligent speaker. Evidence-based and proven tools delivered by a caring person- not someone full of ego and no supplement selling."
The first episode of the podcast "Last 8% Morning" aired March 19, 2020, introducing listeners to the podcast's format. Other episodes include Building an Identity Statement, Why Make Your Bed?, How Your Brain Makes Emotions, and many others. With thousands of downloads and growing and almost 30 episodes, each episode features in depth discussions of tools and strategies discussed by Dr. JP Pawliw-Fry.
"Most of us wake up and immediately scroll through emails or social media feeds – which only spikes cortisol levels and leave us unprepared for the day's challenges," Dr. JP Pawliw-Fry explains, "But it doesn't have to be this way. Staying disciplined with a morning routine – something we have observed the highest performers do, from Olympic athletes to Goldman Sachs execs to astronauts at NASA – translates to more focus and better performance during the day."
Listen to the podcast "Last 8% Morning" on Apple Podcast.
Media Contact
Company Name: Last 8% Morning-Podcast
Contact Person: Press Executive
Email: Send Email
Country: Canada
Website: https://jppawliw-fry.com/