"The 21-Day Anxiety Detox Challenge" Breaks the Cycle of Anxiety and Overwhelm, Reveals Path to Enter Life More Fully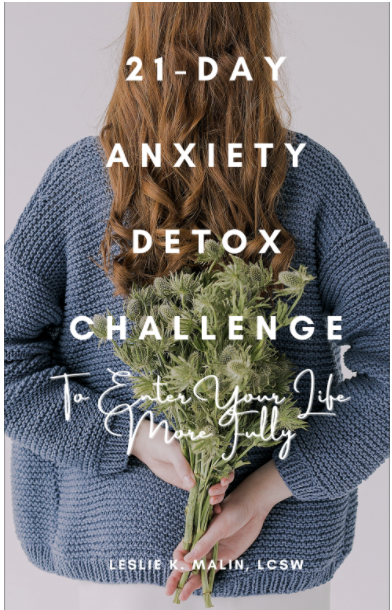 Aug 4, 2020 – Human development professional and author, Leslie K. Malin, LCSW, has just launched "The 21-Day Anxiety Detox Challenge", and it promises to bring much-needed relief to chronic anxiety sufferers. Those who are stuck in the loop of anxiety, fear of failure, and struggling to create change, but believe it will last a lifetime are in for a pleasant surprise. The new e-course shows the way to bring cycles of anxiety and overwhelm under control in 21 days. Those who struggle with negative, ruminating thoughts that inhibit any activity that might change or block self-doubt, as well as unproductive, impulsive reactions to life situations, need not paralyze one's life. This e-course is for everyone who wants to see some real change happen in their lives in a short time.
"The 21-Day Anxiety Detox Challenge: Get Your Anxiety Under Your Control in the Next 21-Days, (Even if you've been trying for years and it feels impossible!)" is available as an e-course.
"This new 21-day e-course challenge is for those who feel that they are "victims" and unable to break the anxiety cycle and feel ashamed, hopeless, and as a failure. These step by step instructions will reveal the nature of anxiety, where it comes from, why it is so difficult to overcome, and how to choose what serves you," says a spokesperson.
The course comprises 21 days of email instructions, education, and support that will inspire, motivate, and inform the student at every step of their journey. They will learn specific techniques and exercises to master their emotions, disrupt ongoing negative patterns of thought and behavior, and practice these methods every day.
The "21-Day Anxiety Detox Challenge" is authored by a clinical social worker, and psychotherapist and career-life transition coach with over 40 years of experience. The solutions provided are a result of working with innumerable people stuck in the hamster-wheel of anxiety and overwhelm and struggling to reach their true potential and create a life full of happiness, inner calm, and hope.
For more information, use the media contact details or visit:
Website: worklifeprinciple.com
Psychotherapy/coaching site: LeslieMalin.com

Blog: JustThinkn.com
Media Contact
Company Name: The Work-Life Principle
Contact Person: Leslie K. Malin, LCSW
Email: Send Email
Phone: 845-706-3114
Address:664 Aaron Court
City: Kingston
State: NY 12401
Country: United States
Website: http://worklifeprinciple.com/