Grind Oral Care LLC Announced the Official Launch of Their Company and the Launch of their one-of-a-kind Toothpaste.
Introducing: Grind Activated Charcoal Whitening Toothpaste, Infused with Hydroxyapatite. For those that get after it. Grind. Never Quit.
Grind Oral Care was founded by an Army Veteran and his family on a mission to do good through toothpaste; an essential commodity we use every day. Grind was created to serve and inspire through amazing products that combat oral care problems. Proudly made in the USA, Grind's mission is to source the finest ingredients and employ the best toothpaste in the world, while giving back to the veteran community.
Grind is different (by design); and is likely the most advanced activated charcoal toothpaste ever created. Grind combines activated charcoal with not one, but TWO natural remineralization ingredients to enable you to whiten without worry. The only toothpaste to combine activated charcoal with Hydroxyapatite (a natural mineral) and Theobromine (a natural chocolate [cacao] extract) to whiten and strengthen naturally, while eliminating the need for fluoride. Then it goes a step further, by adding several more high-demand ingredients, such as Coconut Oil, Aloe Vera, Ginseng, Black Tea, Green Tea, Tea Tree Oil and Mint to perfect the paste. Each hand-selected for their unique benefits.
While Grind was carefully crafted to care for the mouth, it's also a subtle reminder to get after it, grind, and never quit. A mission to serve and inspire – showcasing what can be done with hard work and passion. At face value, Grind combats a problem; however, on the backside it'll do much more. A paste with purpose.
After ten months of research, development and testing, Grind Toothpaste launched October 1, 2020 via grindoralcare.com; and will launch on Amazon.com and Walmart.com in the coming weeks.
Grind Toothpaste Details:
• THE ALL-IN TOOTHPASTE: Naturally whitens, strengthens enamel, combats cavities, freshens breath, soothes & moisturizes. Plus: antibacterial, antimicrobial, anti-plaque and anti-inflammatory; with a taste that's dialed in!
• INFUSED WITH HYDROXYAPATITE: Backed by science; and considered to be safe and effective for strengthening enamel. A natural mineral and the main component of our teeth, encompassing 97% of the enamel.
• STRENGTH THROUGH CHOCOLATE: That's right, a natural cacao bean extract to assist with remineralization and potentially assist with hypersensitivity.
• HIGH DEMAND NATURAL INGREDIENTS: Activated Charcoal, Coconut Oil, Aloe Vera, Xylitol, Ginseng, Black Tea, Green Tea, Tea Tree Oil and Mint.
• NO WEAK SAUCE: SLS Free, SLES Free, DEA Free, BPA Free, Fluoride Free, Gluten Free and Cruelty Free; Free from: Dyes, Peroxide, Triclosan, Parabens, Artificial Flavors or Artificial Sweeteners. Vegan Friendly.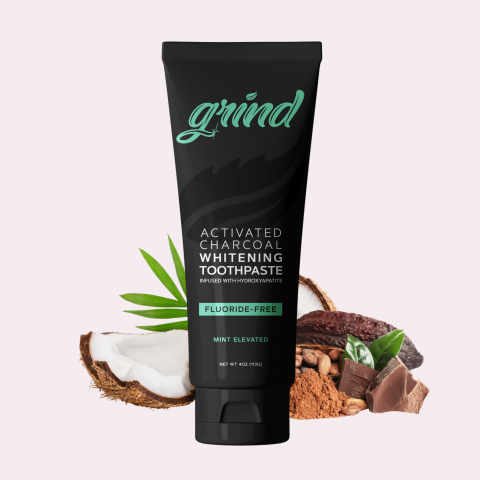 Grind's is poised to be the first product you'll grab each morning and last one you'll use each night; a subtle reminder to attack your day and never quit.
Your daily grind just got better.
About Grind Oral Care LLC
Veteran owned, Grind Oral Care is dedicated to creating safe, natural, great tasting and extremely effective oral care products designed to combat oral care problems. Extraordinary products backed by science to deliver results, while creating a movement to get after it, grind and never quit.
Follow at:
Facebook: @grindoralcare
Twitter: @grindoralcare
Instagram: @grindoralcare
https://grindoralcare.com
Media Contact
Company Name: Grind Oral Care LLC
Contact Person: Media Relations
Email: Send Email
Phone: 8018963079
Country: United States
Website: https://grindoralcare.com