HousingIQ Survey: Homebuyers from the West and Northeast find Kentucky an attractive destination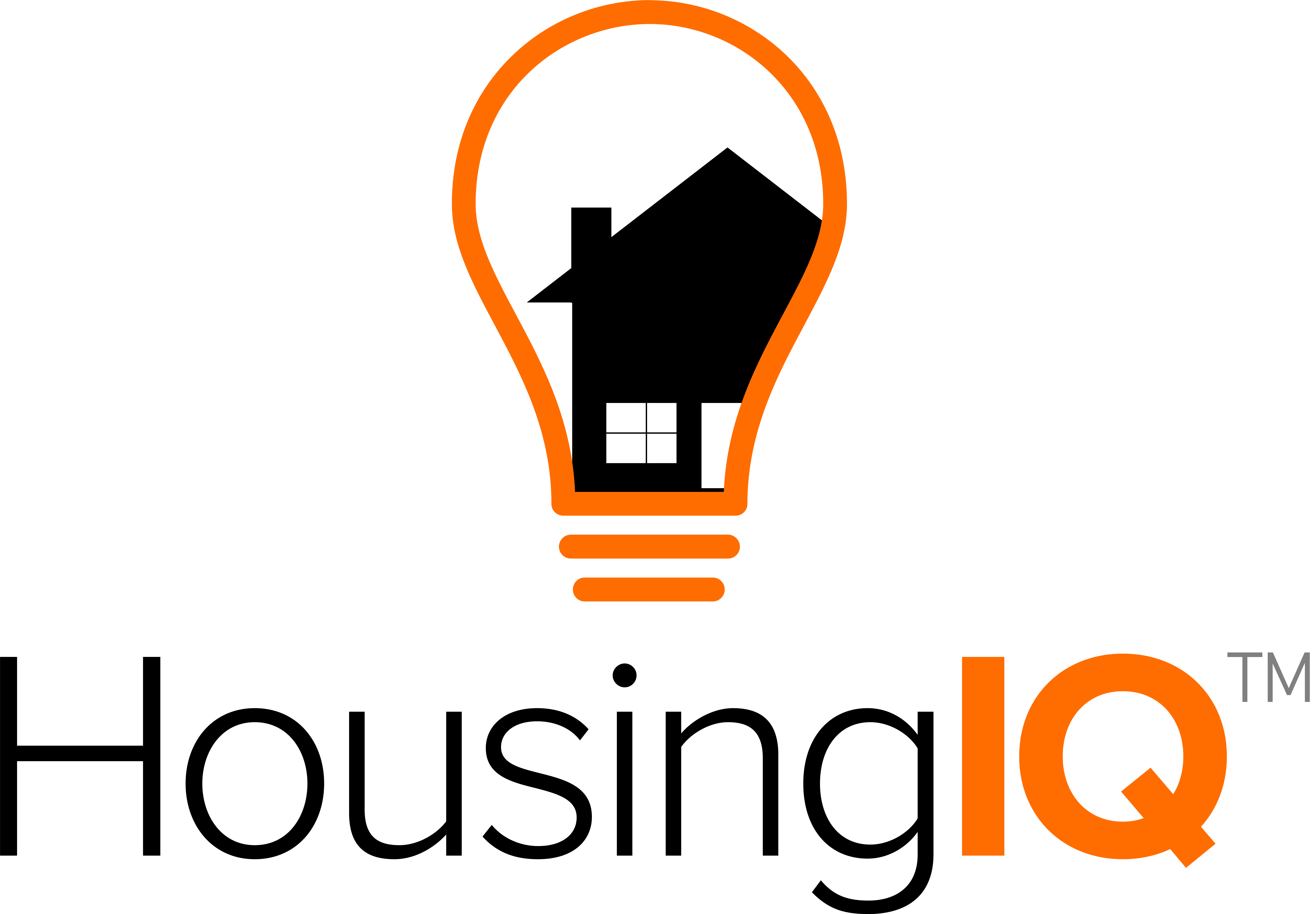 Massachusetts – November 17, 2020 – Nearly 2 out of 5 REALTORS® say there is greater interest from out-of-state buyers, according to an analysis of the October 2020 edition of the HousingIQ Survey of Kentucky REALTORS®. Homebuyers from the West and Northeast represent the largest group.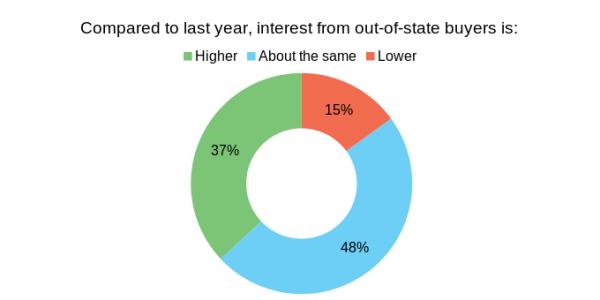 "The Bluegrass state's lower cost-of-living, comparatively more affordable housing, and convenient location to Cincinnati, OH, Nashville, TN, and St. Louis, MO likely make it an attractive destination as working remotely becomes more widespread", explained Vidur Dhanda, author of the survey.
Local market perspective
Kentucky's local housing markets are diverse and varied — culturally, economically, and socially. Each market is attractive for its own unique reasons. Bowling Green is popular with Northeasterners and Western Kentucky with Midwesterners. A complete analysis of out-of-state buyer interest is available here.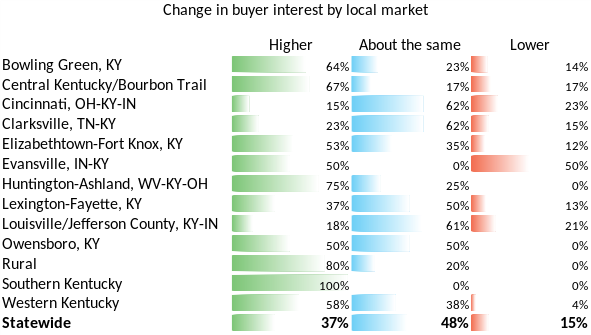 64% of the REALTORS® in Bowling Green say interest from out-of-state buyers is higher compared to 18% in Louisville.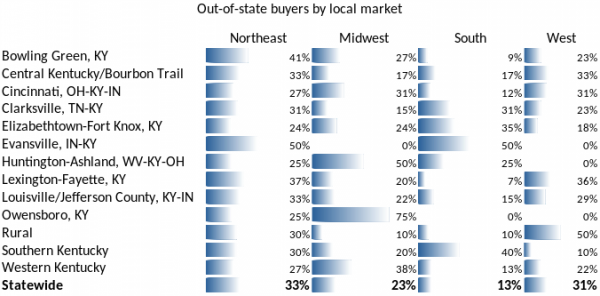 41% of the REALTORS® in Bowling Green rank Northeasterners as the largest group of out-of-state buyers whereas in Western Kentucky, 38% rank Midwesterners as the largest group. In Lexington and Louisville, buyers from the West and Northeast comprise the largest group.
About HousingIQ Survey of Kentucky REALTORS®
As part of an effort to harness the ears-to-the-ground knowledge of REALTORS®, the HousingIQ Survey of Kentucky REALTORS® is administered monthly to the Kentucky REALTORS® membership. The responses are analyzed and reported as the HousingIQ/Kentucky REALTORS® Confidence Index. Each month's survey includes additional, topical questions that help take the market pulse. The October 2020 edition was administered between October 27 and October 31, 2020. There were 324 respondents representing over 2.5% of the Kentucky REALTORS®statewide membership.
About Kentucky REALTORS®
Kentucky REALTORS® is one of the largest and most influential associations in Kentucky. Founded in 1922, Kentucky REALTORS® represents more than 11,600 REALTORS® who are involved in all aspects of real estate, including residential and commercial real estate brokers, sales agents, developers, builders, property managers, office managers, appraisers, and auctioneers.
For additional information, visit kyrealtors.com
About HousingIQ™
HousingIQ's platform gauges the impact of prevailing economic conditions on future house prices. By harnessing local, regional, and national level data concerning consumers, businesses, housing supply, and financial markets, HousingIQ publishes local market indicators that can forecast house price changes over the next 12 months.
For additional information, visit housingiq.wainstreet.com
Media Contact
Company Name: HousingIQ by WAIN Street
Contact Person: Vidur Dhanda
Email: Send Email
Phone: 413-303-9765
Address:5 Cedar Street #733
City: Hopkinton
State: MA 01748
Country: United States
Website: https://housingiq.wainstreet.com