South Korea's SERVORE, Highly Praised at Welding Sites with Its Product 'Arcshield-2', Now Hoping to Expand Its Business Abroad
SERVORE Co.,Ltd., established on October 1, 1989, is a South Korean company specializing in protective equipment for welding safety. It has been contributing to the improvement of the welding environment and welding technology for 30 years. SERVORE has continued R&D and the manufacturing of welding safety equipment, such as auto-darkening welding helmets and welding goggles since its establishment.
SERVORE, which developed and commercialized Asia's first auto-darkening welding helmet, 'SERVOGLAS', has been officially recognized for its technological innovations.
Also, they won the Grand Prize at KOSHA(Korea Occupational Safety and Health Agency)'s 21st Protective Equipment Competition in 2017 for "Arcshield-2", an auto-darkening welding goggle with face protection. They are the Korea first manufacturer of an auto-darkening welding helmet that protects the eyes and face of welders from harmful welding rays, arcs, and spatters that are generated during welding. SERVORE's Arcshield is more than 50% lighter and smaller in volume compared to other welding helmets, making it an optimal product for pipe welders. Welders and safety managers have praised it for securing differentiated technology with the best stability while prioritizing user safety and convenience.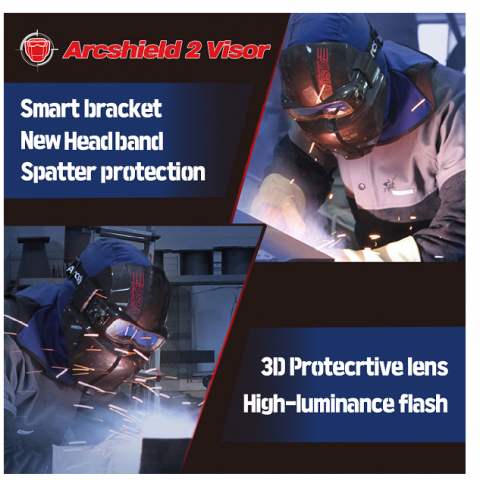 Among the Arcshield series, the Arcshield-2 Visor is a product that targets users who are accustomed to the headband of the existing welding helmet by combining an extended shield and headgear. The Arcshield-2 Visor, combining auto-darkening welding goggle with a spatter protection shield, and smart bracket headgear, is a 'Three-in-One" multifunctional welding goggle mask that enables grinding, gas welding, cutting, and arc welding. In addition, a dual-sensing photosensor and an RF sensor protect the welders' eyes even in environments where low-current TIG welding is underway and welding sensors are covered, so that they can weld conveniently and safely. When welders carry out welding in the dark, they only need to attach the light holder that can be mounted on the face shield to carry an LED light.
SERVORE, praised by many welders, is the only company that provides this product in South Korea. They are also considering overseas sales from 2020 and are in contact with overseas buying agencies. A SERVORE official said, "Using the patented smart bracket, the Arcshield-2 Visor is designed to remove the disadvantages that interfere with rotation to allow welders to lift the face shield easily." He added, "It eliminates the discomfort of the silicone skirt, so welders will not experience fogging up."
For more information, visit the official website (http://www.servore.com).
Media Contact
Company Name: SERVORE CO.,LTD
Contact Person: Mr. Jeong Min, Seo
Email: Send Email
Phone: +82-31-684-6952
Country: South Korea
Website: www.servore.com