New book "Homeless to Hopkins" by Christopher L. Smith, M.D. is released, an inspirational memoir about the journey from poverty and instability to a fulfilling life as a medical professional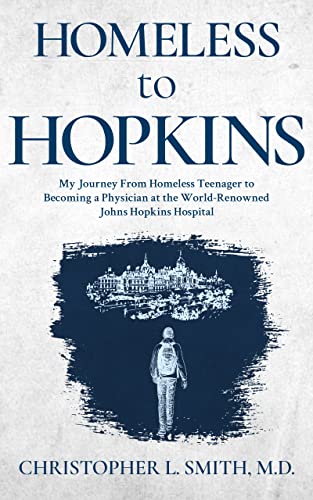 "Homeless to Hopkins: My Journey From Homeless Teenager to Becoming a Physician at the World-Renowned Johns Hopkins Hospital" by Christopher L. Smith has been released worldwide. This 234-page memoir, which has achieved bestseller status as #1 in Amazon's Medical, Poverty, and Biographies of Medical Professionals categories, is a firsthand account of the author's difficult path from childhood dysfunction to building a stable, happy life as a physician with training from the Johns Hopkins University School of Medicine.
One of eleven children born to eccentric parents, Christopher's early years were marked by frequent moves and relative instability, but a tragedy when he was nine years old changed the trajectory of the entire family. After a slow decline in family stability, struggles to make ends meet, and the persistent weight of grief, the family was evicted again as Christopher neared the end of high school – this time with nowhere to go.
In the subsequent years of homelessness, hunger, and loneliness, the author navigated his darkest days, yet maintained the perseverance to graduate from high school, enroll in college, and begin work as a missionary. Through ongoing difficulty with his parents, Chris pushed forward, growing into his own person, getting married, and eventually applying for medical school.
While his adult life as a practicing physician, speaker, author, and entrepreneur provides joy and stability, Dr. Smith had to beat incredible odds to get there. His story is inspiring and motivating, showing readers that great things are possible despite difficult circumstances and rocky beginnings.
Mariel Hemingway, Oscar and Emmy nominated actress and bestselling author, granddaughter of renowned writer Ernest Hemingway, who also wrote the foreword for the book, said, "'Against all odds' is really the only way I can describe Homeless to Hopkins. This is not only an American success story, but also a human expression of inner faith… Chris's book is an inspiration for anyone asking themselves if they can achieve their dreams… After reading this book, I would say you will have your answer, and that answer is yes, anything and everything is possible."
See Mariel's full endorsement at https://www.youtube.com/watch?v=0nJBBxaP6_M
At times gritty and tragic, but filled with hope and authenticity as well, this true story is a powerful lesson in determination and overcoming obstacles.
Homeless to Hopkins (ISBN: 9781958729502 / 9781958729519) can be purchased through retailers worldwide, including Barnes and Noble and Amazon. The paperback retails for $14.95 and the hardcover retails for $24.95. Wholesale orders are available through Ingram. Review copies and interviews are available upon request. The author can be contacted via email at [email protected] or by phone at 410-615-8551.
Free signed copies of the book are available for those interested in writing articles or conducting interviews.
Learn more at http://homelesstohopkins.com/ and https://christophersmithmdauthor.com/
From the back cover:
"I wish I could just die," I said to myself as my teeth chattered and my body shook with cold. Knowing I would probably still wake in the morning with my hair frozen to the door, I curled up in a ball, trying to find some warmth in the car that was my bedroom. Sadness consumed me like an infection; it had become the norm for me to wake up every day feeling broken.
Most nights like this, all I could hope for was to die in my sleep to be rid of the pain. Despite the terrible nights, I still woke up, dressed, and went to my only refuge, my high school.
This was my life, often alone, cold, sad, and hungry. My youth was different than most, but this was my reality.
However, despite the hardship that was my life and being homeless, something led me on, something saw me through. I survived, I found hope, and eventually, a life even better than I had imagined. Even though I so often faced darkness, I discovered light, laughter, and happiness.
I journeyed from that broken, homeless teenager sleeping in the car to eventually being a Medical Doctor at the world-renowned Johns Hopkins. But most important of all, I found me, I found joy.
This is my story.
Homeless to Hopkins.
About the author:
Dr. Christopher Smith is a Board-Certified practicing physician who completed his residency and fellowship at the world-renowned Johns Hopkins Hospital. Dr. Smith currently lives in Florida and is a partner with Quantum Imaging and Therapeutics. He dedicates time and resources to raising awareness of homeless children and finding solutions to help them overcome. Chris enjoys making new memories with his family, walking barefoot on the beach, traveling, and photography.
About MindStir Media:
MindStir Media LLC is an award-winning book publisher. To learn more about publishing a book with MindStir Media, visit http://mindstirmedia.com or call 800-767-0531.
Media Contact
Company Name: MindStir Media LLC
Contact Person: Jen McNabney
Email: Send Email
Phone: 800-767-0531
Address:1 New Hampshire Ave Suite 125
City: Portsmouth
State: NH
Country: United States
Website: https://mindstirmedia.com/