Electric Vehicle Adhesives Market Predicted to Reach $7.6 Billion by 2027 with a 39.4% CAGR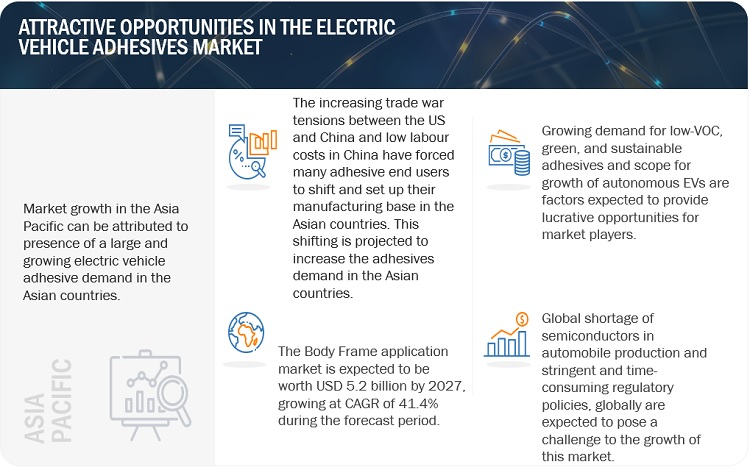 Browse 657 market data Tables and 52 Figures spread through 415 Pages and in-depth TOC on "Electric Vehicle Adhesives Market"
The Electric Vehicle Adhesives Market is rapidly growing, driven by the increasing demand for eco-friendly transportation solutions and advanced adhesive technologies to enhance EV performance and durability.
The global Electric Vehicle Adhesives Market size is estimated to be USD 1.4 billion in 2022 and is projected to reach USD 7.6 billion by 2027, at a CAGR of 39.4% between 2022 and 2027. The increasing trade war tensions between the US and China and low labor costs in China have forced many end-users of adhesives to relocate in to set up their manufacturing facilities in the Asian countries. This relocation is expected to boost the demand for adhesives in the Asian countries. India provides low-cost labor, which can offer considerable investment opportunities for companies. China a major adhesives market, and is home to all of the major producers of EV adhesives. The driving factors of the EV market are decreasing ICE vehicle sales and the country's stringent emissions controls. The country's leading electric battery manufacturers, such as CATL and Build Your Dreams (BYD), plan to build new battery factories in the country. The government has implemented a variety of subsidies and incentives in India, to promote the use of EVs. For example, the Faster Adoption and Manufacturing of Hybrid and Electric Vehicles (FAME) Scheme – Phase I & II program, the second phase (FAME II) is a three-year subsidy program. It intends to help electrify public and shared transportation through purchasing 7,000 electric and hybrid buses, 500,000 lakh electric three-wheelers, 55,000 electric four-wheeler passenger cars, and 1 million electric two-wheelers. The program is also paying for charging infrastructure in India. A total of 532 charging stations have been installed until July 2022. All of these factors are expected to drive the APAC market.
EV adhesives on the basis of substrates are segmented into polymer, composite, metal, and others. Automakers are continuously innovating and using various substrates to make EVs lightweight. The use of dissimilar materials creates the demand for EV adhesives as bonding of dissimilar materials is one of its key functions. The increasing use of different substrates such as polymer, composite, and metal in EVs will drive the growth of the EV adhesives market.
Request Sample Pages: https://www.marketsandmarkets.com/requestsampleNew.asp?id=194059535
On the basis of substrate, EV adhesives are classified as polymer, composite, metal, and others. Automakers are constantly innovating and utilizing various substrates to make EVS lightweight. The use of dissimilar materials increases the demand for EV adhesives as one of their key functions is the bonding of dissimilar materials. The increasing use of polymer, composite, and metal substrates in EVs will boost the growth of the EV adhesives market.
Growing environmental concerns are increasing the demand for EVs at a rapid rate, while the ICE vehicle sales are in decline. The EV market is expected to be boosted by enacting favorable policies for EVs and technological developments in the value chain. The growing demand for electric cars and buses is expected to boost the growth of the EV adhesives market.
Vehicle manufacturers have announced increasingly ambitious plans for electrification. 18 of the world's top 20 manufacturers of vehicle, which account for approximately 90% of new car registrations in 2021, have outlined their plans to expand their product portfolio and quickly ramp up production of light-duty EVs. Critical policy changes adopted by leading countries in electric mobility are driving the growth of electric cars. These countries have introduced stringent emission standards, as well as incentives for EVs, and are promoting investments in the EV industry value chain to attain price parity between EV and ICE vehicles. Adhesive technology, which is utilized in a variety of applications in an EV, plays an important role in making the EV lightweight. EV adhesive producers are expected to benefit from developing EV markets, such as Europe, Asia Pacific, and North America, during the forecast period. As a result, automakers are under rising pressure to minimize vehicle emissions, and EVs are an excellent way to accomplish this.
The growth of the electric bus segment is driven by the growing concerns about air quality, carbon emissions, and high operational costs in major cities around the world. In an electric bus, adhesives are utilized in front & rear shell bonding, roof bonding, door panel bonding, side panel bonding, luggage door, side glass bonding, roof hatch, air conditioning cover, interior parts, front dash & panel, front bumper & grill, and lithium-ion battery. The increasing use of adhesives in electric buses, as well as the increasing global fleet of electric buses, are expected to drive the Electric Vehicle Adhesives Market forward.
On the basis of applications, the Electric Vehicle Adhesives Market is divided into powertrain system, optical element, sensors & communication, and body frame. The increasing production and distribution of electric cars have increased the demand for batteries, electric motors, doors, instrument cluster, infotainment system, seats, various panels, and charging sockets. Batteries are the most crucial components of electric cars as they supply power to the car. The battery of the car is heavier than the other parts. In order to balance the weight of batteries and minimize the overall weight of electric cars, lightweight materials are employed in electric car applications. In the EV industry, adhesives are used in place of welds, screws, rivets, gaskets, and fasteners, which helps automakers to make the vehicle lightweight. One of the concerns in EVs is range. Automakers are facing this issue by increasing the vehicle's battery capacity.
The leading companies in the EV adhesive market are Henkel AG & Co. KGaA (Germany), H.B. Fuller (US), Sika AG (Switzerland), 3M (US), Wacker Chemie AG (Germany), Arkema S.A. (France), Ashland Inc. (US), PPG Industries (US), Parker Hannifin Corporation (US), and Illinois Tool Works Inc. (US). These players adopted acquisitions, new product launch, and agreements as key growth strategies in between 2019 to 2022 which aid them to increase their capacities and serve a growing customer base.
Henkel AG & Co. KGaA (Germany) involves in manufacturing, selling, and distributing home and beauty care products along with adhesive technology solutions. It operates in three segments: Adhesive Technologies, Beauty Care, and Laundry & Home Care. The Adhesive Technologies Business segment provides a wide range of products of adhesives, sealants, and functional coatings for consumers, craftsmen, and industrial applications. The Beauty Care segment involves hair colours, hair styling, hair care, toiletries, skincare, and oral hygiene products. The Laundry & Home Care segment offers heavy-duty and specialty detergents, fabric softeners, laundry performance boosters, other fabric-care goods, hand and automatic dishwashing items, and bathroom cleaners, including specialty cleaners, glass, and household. The industrial product portfolio of the company is divided into five Technology Cluster Brands: Loctite, Technomelt, Bonderite, Teroson, and Aquence. The company concentrates on four global brand platforms for consumers and craftsmen: Pritt, Loctite, Ceresit, and Pattex. It manufactures adhesives for EVs, which find applications in EV batteries, automotive cameras & radars, exterior, and interior. The company manufactures products at 185 sites, which are located in 56 countries.
H.B. Fuller (US) company designs, manufactures, and markets adhesives, sealants, and other specialty chemical products. The company operates in five segments: hygiene, health, & consumable adhesives; engineering adhesives; and construction adhesives. The Hygiene, Health, & Consumable Adhesives segment offers adhesive products to the manufacturing, packaging, converting, nonwoven, hygiene, health and beauty, flexible packaging, graphic arts, and envelope markets. The Engineering Adhesives segment produces adhesives for markets, such as transportation, electronics, medical, clean energy, aerospace & defense, performance wood, insulating glass, textile, appliance, and heavy machinery. The Construction Adhesives segment provides construction adhesives, sealants, tapes, mortars, and grouts. H.B. Fuller Company produces and sells adhesives for EVs through its engineering adhesives business operating segments. The company has 38 manufacturing facilities located in the US and another 36 plants located in 21 countries.
Inquiry Before Buying: https://www.marketsandmarkets.com/Enquiry_Before_BuyingNew.asp?id=194059535
The new vehicles demand was low in pandemic-affected countries as a result of lockdowns and restrictions implemented to prevent the spread of the COVID-19 virus. However, the scenario is changing now. According to the European Automobile Manufacturers Association (ACEA), in 2022, electric buses have gained ground, accounting for 12.7% of the total EU bus market, a hike from 10.6% in 2021. Alternatively powered vehicles taken into account for 32.7% of the EU bus market in 2021, and the EU passenger car market remained strong in February 2023, rising by 11.5% to 802,763 units, which results in the growing demand for EV adhesives.
The companies have initiated the following developments:
In September 2022, Henkel AG & Co. KGaA has completed the acquisition of Nanoramic Laboratories' Thermal Management Materials business. Henkel used this acquisition to strengthen its Adhesive Technologies business unit's position in the growing markets for Thermal Interface Materials (TIM) by expanding its capabilities in high-performance segments.
In January 2022, H.B. Fuller Company announced that it completed the acquisition of Apollo, the largest independent manufacturer of liquid adhesives, coatings, and primers for the roofing, industrial, and construction markets in the UK.
In April 2021, Sika AG acquired Hamatite, the adhesives business of The Yokohama Rubber Co., Ltd. Hamatite is a market leader in Japan, offering adhesives & sealants to the automotive and construction industries. The acquisition helped company to strengthen its market position in Japan and increase market access to all major Japanese OEMs.
In September 2019, Sika AG acquired Crevo-Hengxin, a Chinese manufacturer of silicone sealants and adhesives used in both industry and construction applications. With this takeover, Sika AG expanded its Target Markets Industry and Sealing & Bonding presence in China and the other Asia Pacific countries.
In October 2021, Wacker Chemie AG has acquired a 60% stake in Jining-based specialty silane manufacturer SICO Performance Material Co., Ltd. (China). A corresponding agreement was signed by WACKER and SICO. After regulatory and antitrust approvals are obtained, the transaction closed in the first half of 2022.
Read Our Trending Press Release Below:
Thermal Management Solutions Market – Global Forecast to 2028
Hydrochloric Acid Market – Global Forecast to 2027
About MarketsandMarkets™
MarketsandMarkets™ has been recognized as one of America's best management consulting firms by Forbes, as per their recent report.
MarketsandMarkets™ is a blue ocean alternative in growth consulting and program management, leveraging a man-machine offering to drive supernormal growth for progressive organizations in the B2B space. We have the widest lens on emerging technologies, making us proficient in co-creating supernormal growth for clients.
Earlier this year, we made a formal transformation into one of America's best management consulting firms as per a survey conducted by Forbes.
The B2B economy is witnessing the emergence of $25 trillion of new revenue streams that are substituting existing revenue streams in this decade alone. We work with clients on growth programs, helping them monetize this $25 trillion opportunity through our service lines – TAM Expansion, Go-to-Market (GTM) Strategy to Execution, Market Share Gain, Account Enablement, and Thought Leadership Marketing.
Built on the 'GIVE Growth' principle, we work with several Forbes Global 2000 B2B companies – helping them stay relevant in a disruptive ecosystem. Our insights and strategies are molded by our industry experts, cutting-edge AI-powered Market Intelligence Cloud, and years of research. The KnowledgeStore™ (our Market Intelligence Cloud) integrates our research, facilitates an analysis of interconnections through a set of applications, helping clients look at the entire ecosystem and understand the revenue shifts happening in their industry.
Media Contact
Company Name: MarketsandMarkets™ Research Private Ltd.
Contact Person: Mr. Aashish Mehra
Email: Send Email
Phone: 18886006441
Address:630 Dundee Road Suite 430
City: Northbrook
State: IL 60062
Country: United States
Website: https://www.marketsandmarkets.com/Market-Reports/electric-vehicle-adhesive-market-194059535.html